Company History
DSI started as a home business in 1992 on the island of Kauai. This was before internet connections were available. The name and concept for DataSpace Industries was inspired by the novel "Snow Crash" by Neal Stephenson, a significant book in the cyberpunk genre. See: http://en.wikipedia.org/wiki/Snow_Crash
Most work in the early days involved software troubleshooting on Macintosh systems and upgrading to System 7. A box of 3.5" floppies was a critical business tool. Another prominent area of service was setting up and supporting home recording studios for various musicians on the island. Databases were developed for small businesses and personal users using FileMaker Pro. Database development grew to become a major activity as more and more businesses got off of paper ledgers and on to computers.
As internet service became available on Kauai around 1993-94, DSI was contractd by Hawaii Online, Kauai's first ISP, and promoted email communications as a valuable business tool, setting up many of our community leaders and business professionals with their first email address @aloha.net. Along with the Kauai Economic Development Board, and the Kauai Film Commission, Roger Jacobs of DSI was part of the committee that successfully lobbied for the first DSL service available to Kauai residents. This service went online in Princeville around 1997.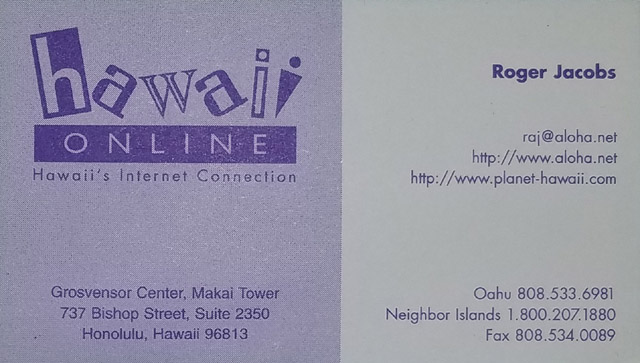 In 1997, along with Kauai County Council member Jimmy Tokioka, DSI was instrumental in facilitating the Kauai NetExpo at the Kauai Beach Resort. By installing a T1 circuit into the ballroom, The Kauai Beach Resort became the first resort in the state to make a high speed internet connection available to guests and meeting rooms. The NetExpo event demonstrated internet productivity to businesses and individuals on Kauai, and was influential in the initial growth of Kaua'i online presence. In those days, a search on Alta Vista for the term "kauai" yielded seven hits. The Kauai NetExpo was a highly successful event and was repeated in 1999 and 2000. DSI assisted many businesses on Kauai with establishing an internet presence during this initial period, and carries that experience forward as we continue with web development activities for our clients.
DSI supported the County of Kauai as well as the local cellular carrier and multiple other clients through the Y2K transition. Not much happened, as our software was in compliance, or we were able to set system clocks back on some older systems, but our oversight helped people feel more secure.
Having focused mostly on FileMaker Pro for 20th century database development, the decision was made during the year 2000 to migrate systems and continue development on the LAMP (Linux, Apache,MySQL, PHP) platform forward into the new millenium. This presented many advantages, including the capability for multiple users to collaborate remotely, seamless web integration, as well as the ability to implement ongoing remote development on live systems.
As of 2010 DSI has grown to a multidisciplinary team of IT specialists who work in cooperation to provide a high standard of service to our clientele.
As of 2020, DSI has reduced staff and is focusing more clearly on web application design, referring most routine IT support issues to the multiple other IT service providers on the island.