Web Design & Development
Search Engine Promotion



DSI offers a range of services that will help analyze and optimize your web site in order to improve your search engine rankings.
Website Analysis and Optimization
Recent internet research indicates that Google is the clear leader in unique visits. Bing is the 2nd most searched engine. Baidu is third, and Yahoo has fallen to 4th. Baidu is a prominent Chinese search engine.
The audience reach chart below reflects unique visits to the various search engines, not the overall volume of search activity. For example, a person might visit Yahoo only once in a given month and would be counted toward Yahoo's share. The same person might also visit Google every day in the same month and conduct several searches per day at Google. Despite this, the person would still count only once in the Google figure above, which shows the percent of unique visitors in a given month that came to the site.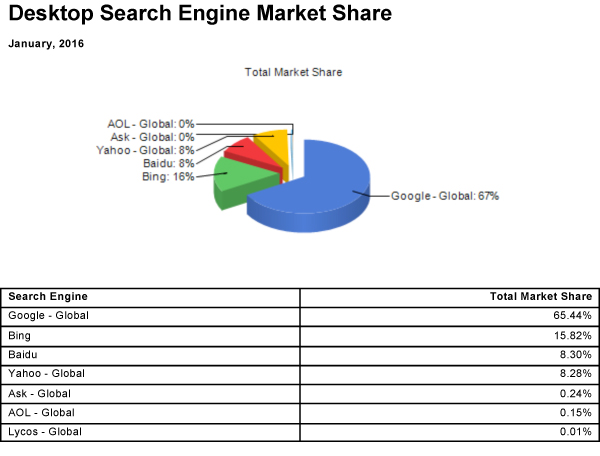 Mobile/Tablet search engine market share is now being tabulated. On mobile, Google has the lead, followed by Yahoo, Bing, and Baidu. Google is factoring in mobile optimization in search results, making it more important than ever to optimize your website for mobile use.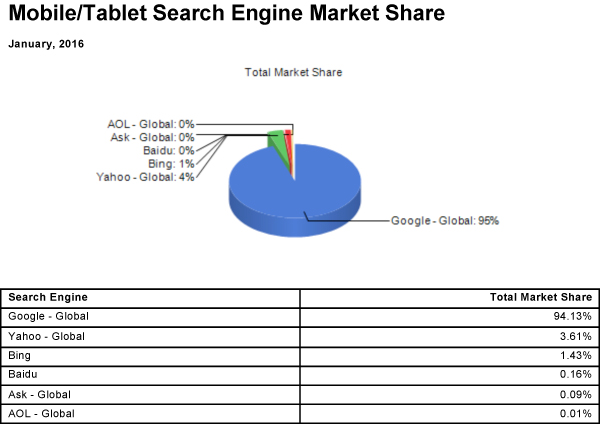 The fee for this service starts at $205 for analysis, optimization and initial submission. Initial service includes:
A searchability rating report on the home page for Google, Yahoo, Bing, and Ixquick for up to three key phrases supplied by the client. (Ixquick is a search engine that does not track search history.)
A critical searchability analysis of the home page with recommendations for optimization for Google
30 minutes of code editing to optimize page text and meta tags based on recommendations
First submission of the optimized home page to Google, Yahoo, and Bing
HTML and text editing services beyond 30 minutes are available at an additional charge.
Monthly or Bimonthly Repeat Service is $90 per procedure. It includes a searchability rating report for the major 3 Search Engines for up to four key phrases. One individual page is submitted to major search engines. The repeat service charge increases according to how aggressively the client wishes to have their site promoted.
If you would like to be serviced with the Website Analytics or Search Engine Promotion procedures, please call our office at 808-245-1695. You will be contacted and verified before anything is done.
Web Analytics
We can set up your account with a popular on-line analytics service and then install a tracking code into your web pages that will yield an incredibly rich array of information about visits and visitors to your website. For instance, where they came from, which browsers they use, which servers they use, which countries they are from, which search phrases they use - and this is just the beginning. You can create an overlay on your main home page which indicates what proportion of hits each link got.
Why is this worthwhile? If you have marketing goals for your product, you hope that your website will be seen by the market you hope to attract. By using analytics, you will be able to see if you are reaching that market, and if visitors to your site are clicking on your preferred links.
The fee for this service starts at $225 for set-up and initial reportage. Initial service includes email consultation to ascertain basic sign-on, password, and FTP information; initiation of account and reception of tracking code; insertion of tracking code into up to 10 web pages; and initial report on data gathered over a 2-week to 1-month period.
Monthly reporting thereafter is $90 per month.
It can be productive to analyze your website for a month prior to initiating a full analysis and optimization.